The #1 Most Powerful Way To Attract Money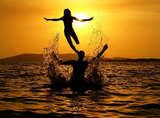 What is the best way to attract money? Create a visualization that is filled with such positive emotion that it suspends awareness of any negative reality and shows God the wonderful result we want.
Since finances will be on many people's minds for months, it's vital that we begin to pair finances with fun in our minds through visualization. How we think about our finances, and how we word and envision our prayers, will determine how fast positive economic changes will take place not just for us, but for everyone. 
HAVE FUN: VISUALIZE MONEY COMING TO YOU
Visualize money coming to you. See yourself taking the mail out of your mailbox and finding checks made out to you. Imagine your paycheck doubled. Imagine money flowing into your bank account. Imagine yourself taking that vacation you've always wanted. Imagine yourself feeling carefree and doing what you love.
Can you begin to picture it? Does it make you happy?
If so, go someplace private and close your eyes. Really imagine and "get into" these events. Feel the joy, as though it is happening right now. If you want to shout with joy, then shout with joy. If you want to dance around the room, then dance around the room.
Feel it as though it's real.
Assuming visualizing feels good, spend a few moments having fun with these types of fantasies every day. Feel the joyful feelings you will have when that money arrives, or when you take that trip. Then, during the rest of the day, pay attention to what you feel like doing, because God will lead you to more money as a result of your asking for it.
WHY IT WORKS
Those  pictures you are holding in your head are showing God what you want. Your feelings of joy are fueling your request. God always delivers what we want, and he knows what we want by what we think about.
When God doesn't deliver, it is because we are either ambivalent about what we have asked for, or have not "asked" properly. For instance, when we hold negative images in our minds, God will send us more of what we have negatively imagined.
This is "the Law" referred to in the Bible, is synonymous with The Lord and refers to the Law of Attraction.
Impartial, The Lord or Law cuts both ways. Visualize negative and you'll get negative. Visualize positive and you'll get positive. Visualize negative and you'll get negative. Our thoughts are magnets.
That is why Jesus told us to love our enemies. When we love our enemies, we are really loving ourselves. When we hate our enemies, we are sending and attracting hate to ourselves.
The same thing is true for money. When we fear and hate money, we drive it away.
When we beg God directly and earnestly for money for one minute out of the day, then feel angry at Him for "having" to beg, or spend the day complaining or feeling afraid about not having enough  money, we are invoking The Law, often with a vengeance, and this is why God has gotten a bad rap as being a "vengeful" God.
Yet, God has created a universe in which positive thoughts outweigh negative, otherwise we would have destroyed ourselves long ago. So God has really stacked the deck in our favor.
That is not the work of a vengeful God, but of a Creator who understands we are learning and need time to evolve.
CAUSE OF ANY NEGATIVE CONOMIC SITUATION
A negative economic situation is a consequence of millions of people not knowing or not applying the law.
In our own era, some worried and feared the good times couldn't go on. Some some saw the suffering in other parts of the world and felt guilty. Some practiced greed which is a manifestation of fear that there isn't enough; that we better grab it all now because who knows what tomorrow will bring.
Fear of loss, raging against paying taxes, and greed are all negative emotions and must eventually deliver financial loss to whomever has fallen into this kind of negative thinking, no matter how rich he is when he begins this mental "diet."
Yet, many others felt angry that they did not have more; that they could not seem to live the American Dream and could not buy all they saw advertised on television.
Whenever anger, fear, guilt, greed and selfishness are a person's dominant thoughts, or when he sees and insists "the world is going to hell", his own thoughts will create that hell for him. It is The Law.
PICTURE YOUR DESIRED RESULT
So instead of predicting that things are "going to hell" picture what heaven on earth would look like to you and hold that in your mind. Picture your desired result, the end result, of having money clearly. Feel great joy as you imagine it,  and God will show you the way to get it.
Remember, money is neither good nor bad. Money is merely a means of exchange. It has no power in and of itself. It  doesn't really come and go on its own. Journaling and "talking" to it is merely a device for getting information about our inner beliefs and how we attract or repel money.
Money can buy you a beautiful bouquet of flowers to give an ailing friend, or buy you a pen and paper so you can write an ugly letter to someone you don't like. Whichever use you choose for it, there is no sin in money itself. Choosing whether to express love or a lack of love is entirely our responsibility and our choice.
SUMMARY
The best way to create more money is to love and appreciate God, and to love and appreciate everything that God has given you, including yourself.
If love, appreciation and joy are not your primary emotions during the day, then you must do what it takes to generate those feelings.
Close your eyes and visualize having the type of life that would naturally make you feel happy and grateful.
Joyfully live that life, in your mind, for a few minutes every day. Make it so real that you forget everything else.
Do that every day and you will see what you visualize show up in your life, guaranteed.
Now, doing this requires an act of faith in God, faith that God is a loving, abundant and unconditional provider and that God is able to perform miracles of manifestation through you.
If you were raised with the idea that God withholds love and is judgmental, or that money is bad, then try my 7-point plan to shift your thoughts so that you begin to experience the truth of God's love and immense power to do good in your life,  and money becomes your friend.
Next post: a money prayer.