"

May my thoughts, words and deeds be in the highest good for all.

"


Say this powerful prayer silently to everyone you meet and watch your life improve. What we sent out comes back multiplied. ~ Clyo
Daily Prayer
May we be safe.
May we be happy.
May we be healthy.
May our lives be filled with ease.
Daily Prayers
Sunday Through Saturday
When we start our days with prayer that asks God to ground us in Sacred Space, and for all our actions to arise from that place, we are transformed.
Sunday
Monday
Tuesday
Wednesday
Thursday
Friday
Saturday
Sunday
Morning: Psalm 63
O God, you are my God, for You I long;
For You my soul is thirsting.
I long for You like dry, weary land without water.
Give me Your strength and Your glory.
I wish to praise You all my life.
Fill my soul as with a banquet.
I cling to You; hold me close in Your hands.
Amen.
Afternoon: Psalm 19: 14
Let the words of my mouth and the meditation of my heart
Be acceptable in Your sight.
O Lord, my strength and my redeemer.
Amen.
Evening:
O Lord, in meditating upon the week ahead,
I dedicate my thoughts, words and deeds to Higher Truth.
I create a sacred container for today and for the week to come.
I affirm that You guide me in doing soul work.
I affirm that everything I think, do and say is guided by Light.
Everything I think, I do and say serves the greatest good for all.
My heart overflows with the joy of this possibility.
And so it is.
Amen.
~ * ~
Monday
Morning:
O Lord, I greet the day, this day You have made, with joy.
My heart overflows with gratitude for my blessings.
Guide me in Right Action today.
May I think kindness, speak kindness, act in kindness
And be kindness
May I give Your love for all You created
To everyone I meet.
Amen.
Afternoon: Psalm 31:1-3
In You, O Lord, I put my trust;
Let me never be ashamed;
Deliver me in Your righteousness.
Bow down Your ear to me.
Deliver me speedily;
Be my rock of refuge,
A fortress of defense to save me.
For you are my rock and my fortress;
Therefore, for Your name's sake,
Lead me and guide me.
Amen.
Evening:
I relax now and let go the day.
My life is good and my sleep shall be sweet.
I trust You are watching over me and my family.
I trust this day has been sufficient to itself.
Thank You, Lord.
Amen.
~ * ~
Tuesday
Morning:
Bless me today as I rise.
Fill me with the wisdom and love to do Your will.
Let negative energies pass over and through me,
Leaving no residue.
May I be a beacon of Light to everyone I meet
And make everyone's day just a little better.
Thank You, God.
Amen.
Afternoon: Variation on Psalm 37: 1-4
I do not fear those who do wrong.
I am not envious of those who have more than I.
I trust in the Lord and I do good.
I dwell in peace and feed on His faithfulness.
I delight myself in the Lord.
He makes my heart glad
Bringing me the desires of my soul.
And so it is.
Amen.
Evening:
I am in Your arms, Lord.
Remind me of how loved I am.
Watch over me as I sleep
And fill my dreams with revelations
That lift me into new life.
Amen.
~ * ~
Wednesday
Morning: Inspired by Psalm 65:11-13
You crown this day with Your goodness.
You rain abundance upon each hour.
The pastures of my soul are clothed in flowers.
They shout for joy, they also sing,
As each moment of this day
Is rich in awareness of Your Loving Presence.
And so it is.
Amen.
Afternoon:
You are with me now, in this moment, Lord.
Help me remember to relax and breathe.
Help me remember that every meeting with anyone
Is a Divine Appointment
In which I have the opportunity
To give and receive more Light.
Amen.
Evening:
Thank You, Lord, for creating night so I might sleep.
Thank You for the night sky and the canopy of stars.
May my dreams be sweet.
May my sleep strengthen me.
May I be filled with energy and enthusiasm tomorrow
And rise into my Highest Self.
And so it is.
Amen.
~ * ~
Thursday
Morning:
Dear God,
Today I notice what is capturing my attention.
if I am focusing on what is bad or frightening
—and telling myself things are getting worse—
Then I stop.
I switch my focus.
I choose to believe You are always on my side.
I choose to believe there can always be a turnaround.
I choose to believe there can always be Light.
I focus on what positive contribution I can make to any situation.
I affirm that bad things are falling away.
I look for the hidden gift in every misfortune.
I notice what is going right, no matter how small
And I give thanks.
I am truly blessed.
Amen.
Afternoon:
Things are what they are.
People are who they are.
A situation is what it is.
I stop blaming.
I open myself to Your love.
I am generous.
I visualize lives of fulfillment for others.
I leave fear behind as You take me by the hand
and I forgive what I cannot control.
Thank You, Lord.
Amen.
Evening:
Help me, Lord, to remember to take care of my health.
Let me fall asleep easily and get good rest.
Help me think loving thoughts as I drift off
And rejoice in the happiness of others.
Help me trust in Your plan for me.
Help me love and accept myself as I am.
Help me be content with my life.
May I awaken renewed and restored tomorrow.
Amen.
~ * ~
Friday
Morning:
I just want to do the holiest thing I can do
in every moment of this day.
Whatever that is, may I do that.
Thank You, Father God.
Afternoon:
Dear God,
Shine Your Light upon the dark emotions in my soul.
Help me make this true:
I replace fear with faith that everything happens for a reason.
I replace doubt with surrender.
I replace impatience with appreciation of my own endurance.
I replace blame with responsibility for myself and my emotions.
I replace guilt with forgiveness of myself for everything.
I release shame and honor all that I am
And all I have gone through not just today,
But as a human being striving for the Light.
I just want to be an instrument of Grace.
Thank You.
Amen.
Evening:
Thank You for the week that has passed, Lord.
Help me relax and enjoy the weekend.
May I be replenished by Your Light.
May my heart be as a feather,
All care washed from me and my family.
May I just be still here, with you, in silence.
Amen.
~ * ~
Saturday
Morning:
Dearest Lord,
My vision for my life and Your Vision for me are not the same.
I know Your vision for my life is better than anything I can imagine.
Help me surrender to Your vision for my life.
Help me relinquish control.
Take over this life.
Keep me on the Highest Path.
Keep me in a place of beingness and possibility.
I have signed on to whatever You have planned.
And I have faith that You are guiding, shaping and loving me
into every greater wholeness.
Thank You, Lord.
Amen.
Afternoon:
Thank You for working Your miracles through me.
Thank You for the joy of purpose and vocation.
Thank you for the peace in my mind, heart, and soul.
The world and I are One with You,
God of my heart, Breath of my breath, Throb in my veins.
Your loving world is the real one, and my gratitude is profound.
Amen.
Evening: Psalm 23
The Lord is my shepherd;
I shall not want.
He makes me t lie down in green pastures;
He leads me beside the still waters.
He restores my soul.
He leads me in the paths of righteousness
For his name's sake.
Yea, though I walk through the valley of the shadow of death,
I will fear no evil.
for You are with me.
Your rod and Your staff, they comfort me.
You prepare a table before me in the presence of my enemies;
You anoint my head with oil;
My cup runs over.
Surely goodness and mercy shall follow me
All the days of my life;
And I will dwell in the house of the Lord
Forever.
Amen.



Prayerforce: 365 daily prayers
Available as an ebook or hard cover volume.
The brush drawing of praying hands on blue primed paper was created by Albrecht Dürer in 1508. Image courtesy of
Wikipedia
.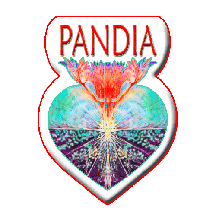 Pandia Publishing "Be The Light"
Prayerforce.Org ©2003 Clyo Beck

Background Image Courtesy Nicole Campbell