"

Dedicated to raising consciousness and creating world peace.

"


"Helping Hands"
Recommended Links

Prayerforce has NO material connection to the following sites and will not receive anything if you donate or buy from them.
I've listed the American Red Cross because it is always there for us and always in need of support. The other organizations are lesser known, but their work is vital and they are very much in need of your support and prayers.
www.redcross.org - website of the American Red Cross, the following Mission Statement and informational paragraph is from that site:
"The American Red Cross, a humanitarian organization led by volunteers, guided by its Congressional Charter and the Fundamental Principles of the International Red Cross Movement, will provide relief to victims of disasters and help people prevent, prepare for, and respond to emergencies."
"All American Red Cross disaster assistance is free, made possible by voluntary donations of time and money from the American people. The Red Cross also supplies nearly half of the nation's lifesaving blood, made possible by voluntary donations."
www.doctorswithoutborders.org - website of selfless professionals known as Doctors Without Borders, Médecins Sans Frontières delivers emergency aid to victims of armed conflict, epidemics, and natural and man-made disasters, and to others who lack health care due to social or geographical isolation.
"MSF was founded in 1971 by a small group of French doctors who believed that all people have the right to medical care regardless of race,religion, creed or political affiliation, and that the needs of these people supersede respect for national borders."
www.myelin.org - the web site for The Myelin Project, the web site associated with Augusto Adoni, father of Lorenzo Adoni featured in the 1992 movie "Lorenzo's Oil." This organization is dedicated to discovering a way to regenerate myelin around nerve cells. When myelin regeneration in humans becomes a reality, it will alleviate the immense suffering of people with ALD, MS and other, similar diseases.
www.SearchDogFoundation.org - Formerly SearchDogsUSA.com this is the web site for the National Disaster Search Dog Foundation. These are the people and dogs who search—after earthquakes and acts of terrorism—for people alive in the wreckage. Their work is invaluable. As they say, if you are underneath a fallen building, the only face you want to see is that dog finding you. This organization could really use more donations.



Prayerforce: 365 daily prayers
Available as an ebook or hard cover volume.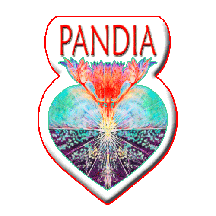 Pandia Publishing "Be The Light"
Prayerforce.Org ©2003 Clyo Beck

Background Image Courtesy Nicole Campbell